SURVEYS OF WATAMU MNP: Intertidal and Subtidal zone
The intertidal zone of #Watamu Marine National Park is diverse and extensive. The shores of the 'long beach' opens to a whole new world below the sea surface in the intertidal zone. The unique habitats and species richness has given tourism and conservationists a spectacular encounter with the beauty of nature and indeed, the generosity of God with His creation. The marine team from #Mwamba Field Study Center has been more than grateful in the last few days, thanks to the amazingly low tides (Spring tide moon phase). The eagerness and enthusiasm to explore the different ecosystems was quite crazy, being led by Dr. Robert Sluka, the lead scientist and director of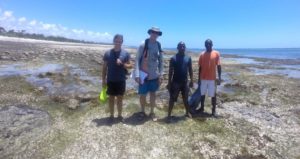 marine research in A Rocha International. The rock pools had taken the best of our time and we left nothing unexplored; from the macroalgaes, sponges, octocorals and softcorals, substrate composition, sea anemones and the numerous creatures inhabiting the rock pools. The subtidal region of Watamu MNP was not spared either, our snorkeling kits, GoPro cameras, data sheets and lots of excitement, enabled us to spend unlimited time exploring the vast seagrass beds and patchy coral reefs.
Heading out to the rock pools was an early morning activity, one hour before the lowest tide of the day, through the sandy magical beaches of Watamu. Our study sites were a mosaic of seagrass beds, turf algae, brown macroalgae (Halimida spp.) and sponges. 20 to 40 centimeters deep pools of water dotted the area revealing beautiful creatures like crabs, cleaner wrasse fishes, brittle stars, leopard cowrie shells, and gentle juvenile blacktip reef sharks.
Snorkeling surveys were conducted at the subtidal zone towards the reef crest where there are vast seagrass beds and patchy coral reefs. At the very low tides, some coral reefs get exposed particularly at the reef cr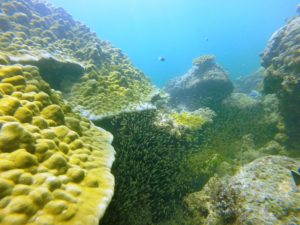 est and the huge corals at Bennett's reef and Lambis. From our observation the lagoon is a biodiversity hotspot of reef fishes, stingrays, guitarfish, blacktip reef sharks and many more organisms.
A recent dive session at Turtle Reef, some 8 meters depth, proved that whitetip reef sharks are part of the community of sharks in Watamu MNP. Besides, the same area recorded a rare sighting of a whale shark! The surveys have been a real adventure and a lot to learn. The marine research team seems to grab attention for everybody in A Rocha Kenya and making a step-by-step effort in creating awareness about the beautiful Indian Ocean.