WORDS COULD NOT SAY IT ENOUGH
In an attempt to say thank you to A Rocha Kenya, Saturday of 20th August was the day when we headed to Kahingoni village, a village where the ASSETS programme has made an impact in an attempt to conserve Arabuko Sokoke Forest as the brave needy students also thrive in education.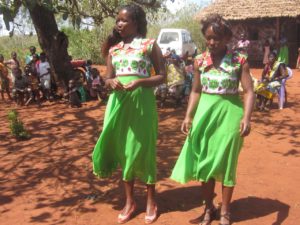 In a home where two girls (Doris and Zawadi) were supported by the programme to go through their secondary school education is a place where we laid our scene.
Just like the ten who were healed of leprosy  by Jesus, all but only one came to give thanks to the MASTER-JESUS'(Luke 17 vv11-19) this is  a story that replicates the same. The ASSETS program has seen through so many students achieve their academic excellence in secondary education but only few of them remember to give thanks. The mother is really proud of her girls and this is what she had to say 'I had not imagined that my girls would reach this far, sometimes my girls would cry if they are turned away from school because of School fees …and this gave me a hard time, but I thank God for A Rocha Kenya's intervention, they have made me a happy woman in this village'. Doris was called to Embu University to pursue bachelors in Education and Zawadi has been called to Pwani University to study nursing which is a living testimony for Kahingoni village.
This is in line with the transformation that  A Rocha wants to articulate and nurture within the communities that it works with as they also struggle to conserve  nature as the vision goes' 'Nature conserved and people transformed''.