Lennox Kirao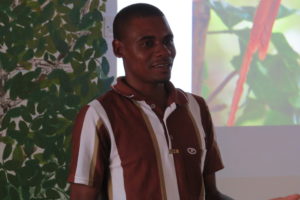 Research scientist
Born and raised at Mida which borders both Mida Creek and Arabuko-Sokoke Forest, Kirao was exposed to nature at an early age and this had a strong influence on his desire to pursue Environmental Science at Pwani University.
Kirao's interaction with A Rocha goes way back. Being an ASSETS beneficiary he learned about A Rocha while he was in high school. When he joined University he spend his long holidays with A Rocha where he got to learn more. In 2015, he joined the staff team. Kirao's first interest was in plants (botany) but over time he has developed ornithological skills, and is currently coordinating A Rocha Kenya's research projects. Kirao enjoys being in the field and discovering new species.
He enjoys spending his free time his family.