Simon Beja Kenga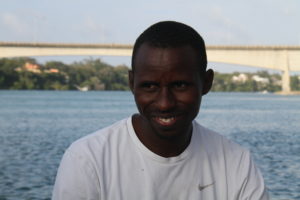 Gardener / Artisan
Simon was born and raised in Kirepwe Island.Growing up on the  island, the ocean was always a big part of his life. He would enjoy sitting on a mangrove branch and looking at school of fish swimming in and out of the creek with the tide. He dreamed of becoming a boat captain.He took up fishing, and soon became quite a skilled fisherman, mastering a range of fishing techniques.
Simon joined A Rocha Kenya in 2014.He was employed as a gardener, he also helps with fixing broken things around the centre and assisting with marine expeditions and coral monitoring. When the marine team got a boat, he was trained to pilot it – his dream come true!
In 2019, he completed his PADI open water training, one step more in his marine career!
He's also passionate about bees and honey, and produces delicious mangrove honey!